Notice: Autocomplete now supports wildcards (*). You may experience bugs, if so clear your browser cache. Still persisting? Report them on the forum.
2 comments

PurpleNinja
>> #950033
Posted on 2011-12-13 02:15:31 (Report as spam)
Kind of a liberal interpretation of Sheila imo.
still fucking awesome though.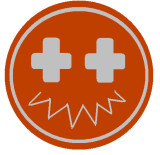 twilight_jester
>> #1063546
Posted on 2012-05-04 14:45:52 (Report as spam)
well miss cartman doe's have a wang sense she is a futanari.
1