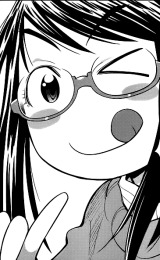 surveyork
>> #2079387
Posted on 2017-01-11 19:14:47 (Report as spam)
Artist's commentary
Original
レジ袋は結構よ。

ノーレ(ッ)ジ袋

毎月5日はノーレジ袋の日だそうですよ(すっとぼけ)
Translated
"I don't need plastic bags.
No plastic bags [lit. cash register bag] (Noore(j)ji bukuro)
The 5th of every month is No Plastic Bags Day (suddenly)."
Noo reji
from [/i]noo reji bukuro[/i] sounds almost the same as the Japanese pronunciation of "knowledge", as in Patchouli Knowledge's name:
Pachurii Noorejji
.
ノー・レジ袋の日 (
noo reji bukuro no hi
, No Plastic Bags Day) takes place the 5th of every month.