Notice: Autocomplete now supports wildcards (*). You may experience bugs, if so clear your browser cache. Still persisting? Report them on the forum.
4 comments

Anonymous
>> #2111094
Posted on 2017-03-20 20:05:49 (Report as spam)
Well finally I been waiting forever to see Lin Lin in hentai plus Lin Lin is my favorite female in one punch man

Anonymous
>> #2111103
Posted on 2017-03-20 20:15:16 (Report as spam)
Can we get more of Lin Lin in hentai because I'm dying to see more of her plus the one who drew this can you do more of her plz I can't wait anymore if the one punch man anime season 2 doesn't tell us when it's coming out I be really mad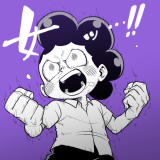 Perv-Ultra
>> #2113057
Posted on 2017-03-27 04:43:50 (Report as spam)
She is cute yes but she is just a side character and the hentai artists are too busy drawing everyones favourite esper sisters getting tenderised by tentacles and btw just read the manga seriously if u can't wait for season 2

Anonymous
>> #2116989
Posted on 2017-04-08 03:50:29 (Report as spam)
Btw, should note that official translation for her name is Ring Ring, not Lin Lin, which is obvious in hindsight what with the bell motifs.
wasabisyrup.com/storage/g...rvw/m0008_U0oihSwhijQ.jpg
1