7 comments

poodleham69
>> #778526
Posted on 2011-06-19 17:30:50 (Report as spam)
Ghottah love the oh god what just happened-face tag. :D

Anonymous
>> #778650
Posted on 2011-06-19 19:58:30 (Report as spam)
i don't remember that in the eps of shuffle

Anonymous
>> #778669
Posted on 2011-06-19 20:27:10 (Report as spam)
This is a fraud, the only REAL thing is that they kiss by falling in an accident in the ending part of Shuffle! .

nihil_
>> #779144
Posted on 2011-06-20 06:14:14 (Report as spam)
@poodleham69
I know, right? :P The girl on the bottom has that expression. Someone edited it out, though.
I made this from this .gif:
gelbooru.com/index.php?page=post&s=view&id=1056123
It doesn't happen in the series. Apparently the whole trip & fall scene is from the credits of the series. I added an edited version of a kiss .gif I had laying around, and lightning to cover up the poor looping.

Anonymous
>> #804745
Posted on 2011-07-09 22:56:54 (Report as spam)
Nice job taking the french kiss from Fighting of ecstacy :I

Anonymous
>> #824658
Posted on 2011-07-25 21:33:31 (Report as spam)
My tongue accidentally fell in your mouth.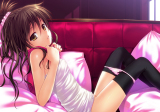 GoodMokkori
>> #1600032
Posted on 2014-09-10 13:41:24 (Report as spam)
Nice accident , love it !!
^^
1