8 comments

Lurkerella
>> #815800
Posted on 2011-07-18 01:33:35 (Report as spam)
Sugimori, when you learned to draw like this?
I TAKE BACK EVERYTHING I SAID ABOUT YOUR ARTWORK.
I NEED THIS ARTBOOK.

Anonymous
>> #816219
Posted on 2011-07-18 10:55:08 (Report as spam)
"I SUMMON THE RED EYES BLACK DRAGON!"

Anonymous
>> #817036
Posted on 2011-07-19 00:13:21 (Report as spam)
no matter what, i like zekrom better than reshiram

Lurkerella
>> #817053
Posted on 2011-07-19 00:28:49 (Report as spam)
Because of the meanings of the Pokemon, I like N with Zekrom and Reshiram with Touya :Y

Anonymous
>> #927945
Posted on 2011-11-16 07:42:11 (Report as spam)
Agree with Lurkerella. Anon2, reshiram way to go. reshiram neutral from ice, but zekrom still damaged 2x.

Anonymous
>> #1035565
Posted on 2012-03-29 02:12:54 (Report as spam)
I prefer to think of N/Reshiram because Reshiram seems like "light" and you usually associate "Light" with "pure" which is what N wants, a pure world.
Then there is Zekrom who.... is just beastly

Anonymous
>> #1547725
Posted on 2014-06-07 18:39:21 (Report as spam)
o.o i gotta be honest both set ups work for me N with Zekrom = N seeking to create the Ideal world he envisions with everyone living equally and N with Reshiram = N trying to bring the truth he's grown up with all his life into the light (regardless of whether or not he had all the information) o.o they just both work though i prefer using Reshiram so thats my call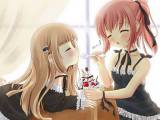 Angel_Blade2
>> #1755613
Posted on 2015-06-11 12:02:27 (Report as spam)
Anon4: It's not actually a matter of light and dark though.
Zekrom surprisingly represents "Ideals" despite the black colorization and Reshiram represents "Truth".
You could make an Ace Attorney or Death Note reference out of it. :?
Also, I agree with Anon5, when you really think about it, both are fitting.
For the main character, the ideals could simply be being the champion but the truth could be humans and pokemon CAN belong together. :)
I'd like to use Zekrom though I think, plus White has Iris I think as being fought. <3
1