Notice
: The
vast majority
of our users need to read this. Having issues with images not loading?
Check this out
. Patreon rewards for December have been processed! Claim them now!
(Dismiss)
|
2 comments
(0 hidden)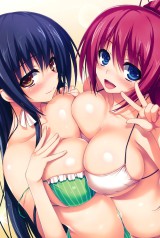 Dinna
>> #1875400
Posted on 2016-01-01 15:40:02 (Report as spam)
Score:
3
(Vote
Up
)
I need her as my waifu. Let us be waifu and waifu please...

Anonymous
>> #1985073
Posted on 2016-07-12 14:25:36 (Report as spam)
Score:
0
(Vote
Up
)
Hot damn!! A teenage Asagi is fine too :D
1