3 comments

Anonymous
>> #2111068
Posted on 2017-03-20 19:23:50 (Report as spam)
It's my dick in a box

Retropretzel
>> #2111136
Posted on 2017-03-20 22:10:47 (Report as spam)
She's like one of those guys at baseball games that hand out snacks. I wonder how much this one is? Hehe.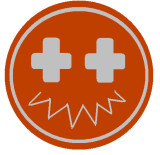 twilight_jester
>> #2116736
Posted on 2017-04-07 11:12:22 (Report as spam)
"blow job's, give your blow job's here"
that is something she is going to say, I'll bet on that.
1