8 comments

Anonymous
>> #364703
Posted on 2010-07-14 03:14:34 (Report as spam)
I remember this anime on a website, the black haired girls were riding the blonde and red haired girl, now their getting fucked x33

Anonymous
>> #365944
Posted on 2010-07-15 09:24:46 (Report as spam)
its space pirates something
i just don't remember the part after space pirates :L

war_of_the_worlds
>> #405761
Posted on 2010-08-18 15:30:57 (Report as spam)
PAYBACK YOU LITTLE SLUTS!!!

Anonymous
>> #578198
Posted on 2011-01-11 19:24:28 (Report as spam)
Too bad in the 4 episodes
PAYBACK FUCK NEVER HAPPENS
They get killed..the lolis I mean

Anonymous
>> #686333
Posted on 2011-04-08 02:58:51 (Report as spam)
D:!!! no! not the lolis!!! i wanted to keep em

Rick9001
>> #698465
Posted on 2011-04-17 17:22:55 (Report as spam)
The payback in the 4th episode of the anime version felt a little underwhelming. For one thing, we don't see that fat duke being wiped out, assuming that it actually happened... it has just been hinted in the ending monologue. Now that would've been a treat.
Then again, it's hentai we're talking about so that is a little too much to expect.
The payback fuck does happen in the bonus scene, though. Yeah, those little sluts managed to survive somehow. Too bad it was a little too short for my tastes.
Despite those shortcomings plot-wise, the anime was quite enjoyable.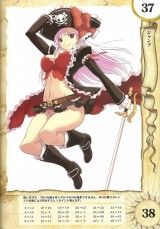 Queen_Darkness_Von_Haven
>> #1352968
Posted on 2013-07-03 11:07:06 (Report as spam)
Now this is a Good Payback also it would have been nice if they are fully nude like the game the anime is only half nude

cutie_yoko
>> #1379508
Posted on 2013-08-13 20:46:07 (Report as spam)
Actually, everyone, they did live. There is an extra that shows that the twins are still alive, and Sera and Siria are using them as sex slaves.
1